708B is a tube headphone amplifier, is a tube preamplifier.

Sound Features Without noise, wide dynamic range, wide frequency response, low output impedance
Headphone Amplification is dynamic, high-resolution, treble clear and transparent, pleasant and pleasant; meddle frequency is full, rich texture; low-frequency powerful, flexible. Sound warm , with a high degree of reduction sound quality, quiet and witout background noise.

It is with excellent circuit, sophisticated components, it could sound quality and tone have a superior performance. The practical audition, 708B amp this dynamic, high analytical, treble clear, refreshing and pleasant; M-Frequency if full range, rich in voice; low F full and flexible. warm sound is Naiting , with a high degree of sound reduction, quiet background music.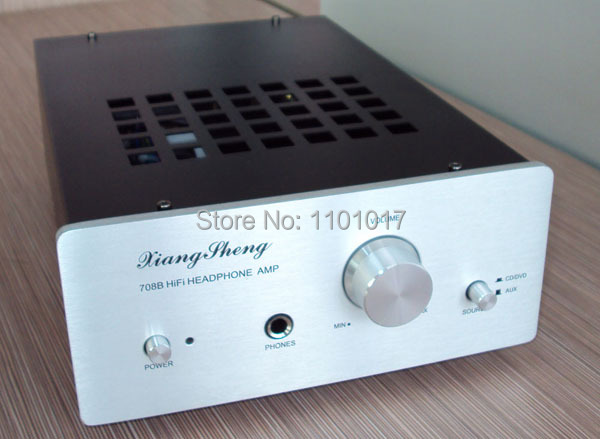 Parameters:
Output Tube : rectifier 6Z4x1, driver 6N11 x 2, 6N3 x1

Input Impedance : 100k ohms (HIFI EXQUIS co limited)

Preamp output impedance : 600 ohms ;

Headphone output impedance :32 - 600 ohms ( recommended use high impedance headphones )

Harmonic Distortion : less than 0.01%

Headphone amp output power :
500mW x2 (32 ohm) (HIFI EXQUIS co limited)
300mW x2 (300 ohm)
250mW x2 (600 ohm)

Frequency: 20Hz-30KHz +/-1db

Signal/Noise Ratio : 89dB

Input Jack : 2 group

Output Jack : 1 group

Size Dimension : Width 180mm x Height 80mm x Depth 270mm

Color: Silver or Black

Input Power : AC110V-240V switch power supply

net weight : 2.5kg (HIFI EXQUIS co limited)

Package weight : 3.2kg
Features:
Both a tube pre-amplifier also it is a tube headphone amp .

This nice amplifier refer to famous Japan Wada Shigeho's Style improved Electric Circuit, having excellent performance.

8mm thick aluminum alloy with silver plating process panels, advanced wrinkle paint process thin steel casing , a large metal knob.

Unique tube display large window , the background light with a warm orange-red.

Signal input and output using gold-plated RCA terminals in Taiwan , small contact resistance .

power line with three plug power socket , easy to upgrade the power cord.

Taiwan- WL volume control potentiometer or wizard ,

Germany WIMA red MKP grade polypropylene coupling capacitors

Taiwan produced no sense of metal film resistors,

Teflon silver plated signal lines.

R-shape high efficiency transformer, reducing the contact resistance,high efficiency, low magnetic leakage(HIFI EXQUIS co limited)

using high-pressure tube rectifier ,

two high-quality large pond filter capacitors .

The highly respected enthusiasts no negative feedback circuit form .

Switch input sourc(HIFI EXQUIS co limited)