Silver / Black with all tube option is with all tube: 2 x chinese 6z4 rectifier , 2 x 12au7, 2 x 12at7 , 1x decoration tube
Silver / Black without tube option is without any tube, except one of decoration tube,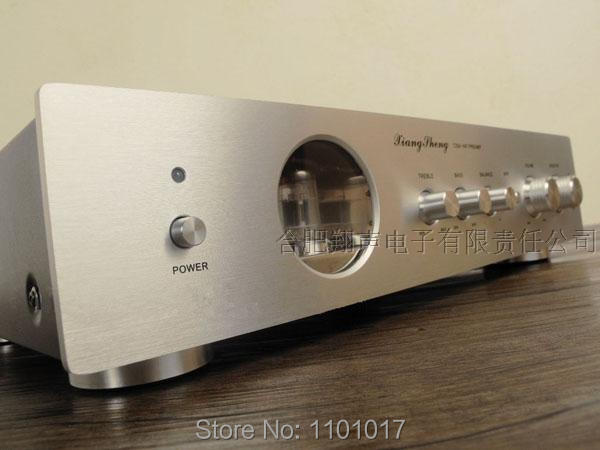 Wonderful stereo Pre-Amplifier, built with the best parts available,
The pre-amplifier improved based on famous Wada Shigeho's Style Electric circuit, which was Introduced by Wada Shigeho in the early 1960s and gave an excellent performance.
Regarding the Wada Shigeho's Style Electric circuit, it not only still keep the good features of Marantz7,meanwhile it have superrior features in Dynamic, High/Low Frequency Response, Resolution and Signal to Noise Ratio as compared to Marantz7.But apart from above features, it's also not inferior to Marantz7 in Sound stage and airy feeling. Adopt 4 PCS paper in oil capacitors and German WIMA capacitors for coupling effect, make the sound warm and delicate.
Product characteristics :
The reference of Wada Shigeho's circuit to improve lines and adjust according to the different uses of the bile duct peripheral component parameters to maximize the strengths of the bile duct , so that the machine can no matter what the outstanding performance of the bile duct . Japanese and Shigeru launched in the early 1960s, the performance is excellent. It maintained a Marantz7 mellow and full of musical taste characteristics, but regardless dynamic , transient, high frequency response , power analysis , signal to noise ratio than Marantz7 good , and in the sound field , transparent flu and Marantz7 enough to keep pace .
Size : 430 × 90 × 290mm

Input impedance : 100K;

Output impedance : 600 ohms

Output max volatage: 15v

SNR : 90dB;

Frequency Response : 10Hz - 30KHz;

Distortion : ≤ 1%.

Input Power : AC100V-AC240V available 60Hz/50Hz

Output Tube : 12AT7×2, 12AU7×2, 6Z4×2, 1x decoration 9pin tube

Input Sensitivity : 400m

Humidity : 35%—80%

TMD : less than 0.01%

Input Jack : 4 groups

Output Jack : 2 groups(same voltage), you can connect double same amplifiers

Net weight : 8.5kg,

Package size weight : 11.8kg

Colors: Black or Silver front panel to choose