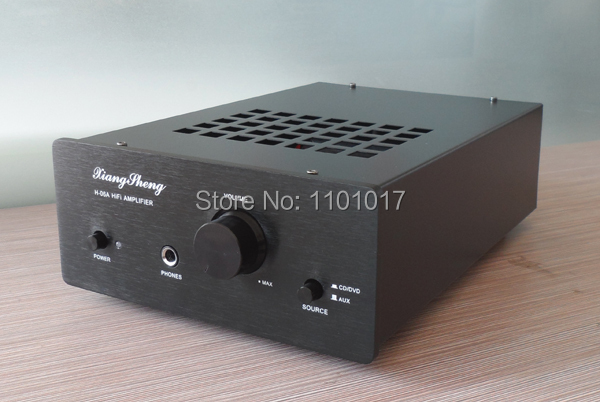 Design of materials:
1mm thickness steel plate using black spray process box .
Using 8mm thick aluminum wire drawing process panel.
The metal knob cap.
The blue power indicator tube .
power supply with low magnetic leakage toroidal transformer power supply.
The volume is controlled by Taiwan WL or wizard potentiometer.
Signal input shielded signal lines.
The red Weimar, Germany WIMA MKP polypropylene capacitors coupled to do before and after class .
pre-amp use 6J1 tube , which is an indirectly heated high gain beams shoot pentode , transparent sound bright , airy grainy good, then a transistor form , lower distortion , better sense of hearing .
Power amp section selected U.S. National's reputation tube flavor amplifier chip LM1876T, NS company has patented SPIKE sudden loss of instantaneous temperature protection circuit , overvoltage , undervoltage , overload protection, and monitoring transistor safe operating area protection, fade in, fade out squelch mode


Technical characteristics:
tube pre- regulator power supply uses high pressure to make noise to a minimum level .
AC-powered filament and balanced ground , while maintaining the advantages of AC-powered warm timbre , and overcome the shortcomings of the DC power supply lead voice hardening and aging fast filament end .
use of mature experience designing large power amplifier , so that the machine layout is very reasonable , although our whole range of products in the low-cost mini- amplifier , but in tone , SNR , frequency response , power and so it is not distorted admiration.
The machine has increased the latest improved amp output function , the driving force is good, can be connected to 32-600Ω impedance range headphones.


Performance parameters:
Rated output power : 2 × 30W (8Ω)
Frequency Response : 20Hz ~ 30kHz ± 1db
Total harmonic distortion : <0.1% (1kHz)
Input Sensitivity : 500mV-2000mV
Input impedance : 100KΩ
Output Impedance : 4Ω, 8Ω
SNR : 90dB
tube + chip : 6J1 × 2 + LM1876
Dimensions (W × H × D ): 185 × 80 × 270mm
Power input : 110v-240v 50/60hz
Net Weight : 3.5Kg
Front panel color: Sliver or Black