Silver / Black standard version option is with SA9023 USB decoder(usb sampling is 24b 96khz) and chinese 6n3 output buffer tube
Black Luxry version option is with XMOS USB decoder(usb sampling is 24b 192khz) and Russian 6H3n
output buffer tube(if you want Silver luxury version, please leave us a message in the order page)

Specifications:
Size: 26cm x 5.5cm x 17cm

Frequency Response: 20Hz-30kHz +/-1dB

S/N Ratio: Transistor – 96dB;Tube – 90 dB

This DAC supports 16bit, 20bit and 24 bit audio depending on source.

Sampling Frequency: 32kHz, 44.1kHz, 48kHz, 88.2kHz and 96kHz, depending on source.

Output voltage: > 2000 mV

Dynamic Range: 117 dB

Input impedance: Analog 100K ohm, Digital 75ohm

Output impedance: 600 ohm

Headphone output impedance:32-600ohm

Earphone amplifier output power: 1000mW - 300 mW

Maximum Output:1000mW x 2 (32ohm), 500mW x 2 (300ohm), 300mW x 2 (600ohm)

THD: Transistor output <= 0.001%;Tube output <= 0.1%

Working Temperature: 5-40 Degree Celsius

Working Humidity: 35-80%

Net weight: 1.7kg

Input voltage: 100V-230V/50Hz60Hz
​
Version 9 DAC-01A features:
Vacuum

buffer

tube use chinese

6N3 or Russian 6H3n,

HIFI level 1XOPA2604AU op-amp and 2XLF353. with gold-plated op amp seat, you can replace any dual op amp, no need adjustment, is very convenient, so you can listen to a different op amp tone.

Coupling capacitor ELNA capacitors

Tube filament filter capacitor to Nissan rubycon ruby 6800uf capacitor.

Square active crystal oscillator, it's beter, effectively reduce

USB

port

jitter

, enhance sound quality.
You can also find this USB DAC standrad version in our store "PC HIFI" group
Features:
This DAC-01A is designed to ensure your enjoyment your collections of digital music in the most convenient and high fidelity way.

(5) sets of inputs: including (2) sets of analog RCA inputs(DVD/CD, AUX), (1) coaxial, (1) optical and (1) USB input.

(2)sets of RCA outputs - transistor and vacuum tube.




Built-in headphone amplifier:allows you to enjoy music with privacy. Great power, music layers and details

All resistors and capacitors are audiophile grade to ensure sound quality. Key parts are from Germany and

Taiwan etc.

R-shape high efficiency transformer. Gold coated RCA connectors and coaxial connector.




Separate power supply rectification to analog and digital circuits.

Brushed aluminum (7mm thickness) faceplate,with all metal buttons and knobs, plus blue LED indicator light .

Can also be used as a pre-amplifier.
The performance characteristics:
The machine has a 5 ways switch signal inputs :
Analog part : 2 x RCA inputs, you can connect your CD playeror another RCA sound source, let DAC-01A improve or control your sound source.
Digital part : Coaxial, Optical, USB.
The machine has two stereo RCA outputs :
OP-amp normal output OR Tube buffer output . convenient tube amp or transistor amp, to get different effects.

main amplifier board with dual-panel design , production of fine .

The machine is also designed with headphone amplifier output , the circuit reference classic lines , the use of integrated operational amplifier + discrete pieces in the form of the power flow on the tube expansion , late -stage amp current amplification using emitter follower , because pushing the headset , the current does not like amplifier that requires a lot of current, so do not have a small emitter resistor values , which can increase end -stage feedback , reduce distortion and improve stability. Joubert and add a network to prevent high-frequency self-excited oscillation .

To protect the headphones, plus there is the output resistance and output capacitance , in order to ensure that the sense of hearing , the use of large -capacity electrolytic capacitor in parallel with the small-capacity monolithic way to make high low-end signal coupling smooth.

With a variety of headphones actual audition , driver well structured, clear details , the intensity is good, there will be improvements to upgrade the op amp for playing machine sent Shaoyou provides headroom.

The digital part is not entered automatically muted

The machine headset promote and isolation buffer using National Semiconductor 's LF353N ( FET input dual op amp , warm and delicate )

The machine resistors, capacitors are of high quality discrete component assembly fever , so the sound quality is guaranteed , but also easy to replace the friction drive components .

The machine uses a lot of fever quality components : 1/8W metal film resistors, Germany WIMA polypropylene capacitors , CBB subminiature metallized polypropylene capacitors, monolithic capacitors. Never use of polyester , tiles and other common components. Thus ensuring pure sound , high resolving power , small bass , a wide sound field and so on.

knobs and buttons are made of metal knobs and buttons.

indicator with blue LED.

Using superior performance of R-type transformer power supply ( generally only the high-end equipment will be using ) , although the cost ratio circular , square transformer greatly increased , but high efficiency, small magnetic leakage . Digital and analog part of the independent power regulator rectifier filter to reduce interference.

Volume potentiometer make in Taiwan .

In order to ensure a limited budget , get a good musical , the machine saves the display portion dispensable .

Block RCA analog inputs , RCA line outputs seat , plated coaxial ports , reducing the contact resistance.

The machine tuning cf desktop CD models: Octopus HD-22, the sound Ya S-10CS, Zhu Lida JD100 and so on.

The machine tuning cf similar products : lezhibang MD-10, lezhibang SVDAC05, Ian Van ZERO decoders .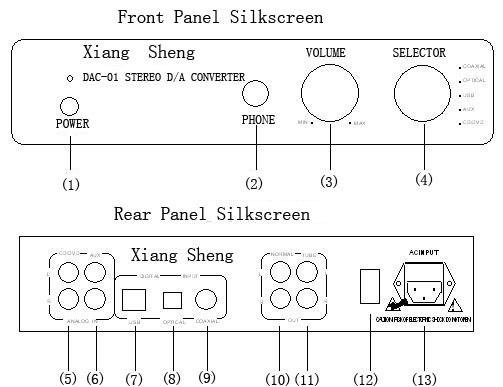 Description of the silkscreen of panel
(1) Power Switch: POWER - Press the button once, the power comes on. Press the button again, the power goes off.
(2) Headphone output port: When inserting headphone, automatically cut off the loudspeaker output.
Please use headphone with 32ohm and 600ohm.
(3) Volume Control: VOLUME-Turning the Volume control clockwise increases the volume level, turning the
Volume control counter-clockwise decreases the volume level.
(4) Signal Input Selector: SELECTOR
(5) CD/DVD Signal Input Port(CD/DVD)
(6) AUX Signal Input Port(AUX)
(7) USB Signal Input Port(USB)
(8) OPTICAL connection port
(9) COAXIAL connection port
(10) NORMAL output port : can be connected with integrated amplifiers (such as tube amp).
(11) TUBE output port: : can be connected with integrated amplifiers ( such as transistor amp).
(12) AC Power Selector Switch:
(13) AC Power Input Plug (AC INPUT), AU/EU/US standard power cable available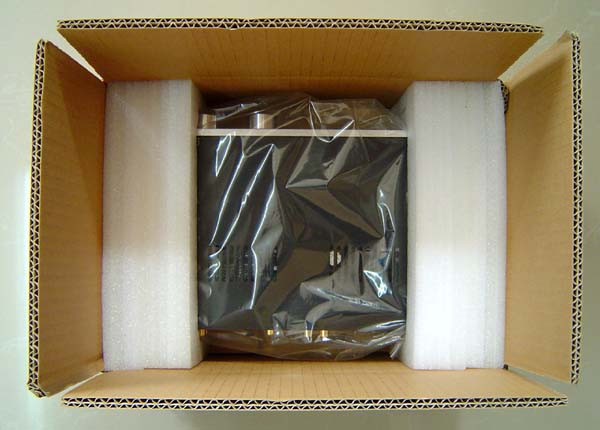 SA9023 USB(the oscillator is on the back of usb card):

XMOS XU208 USB card(have double speed than old XMOS U8):